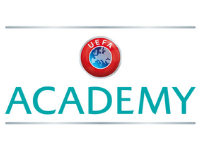 UEFA Strategic Communications Compact Course
The UEFA Strategic Communications compact course is an exclusive programme designed for communications executives committed to deliver communicative excellence through detailed/strategic and innovative content plans.
Full description
Programme overview

The UEFA Strategic Communication compact course helps senior communications specialists improve and update their skills in four days of sessions comprising real case studies, practical exercises, best practices and group work. Developed by leading experts, the course helps participants deal with the complexity of devising and delivering effective communication to meet their organisations' strategic priorities.
It provides key communications specialists with the tools and knowledge they need to enhance their communications plans in a constantly changing and increasingly disruptive environment. Since anticipating crisis management is the key to effective communications when difficult situations occur, this course will also help participants to prepare public responses to crisis scenarios and plot their way through an unfolding football crisis.
The course will place particular emphasis on peer-to-peer learning, where participants will work together and share the different communications practices applied in their various organisations. It will also enable communications practitioners to further develop their networks around Europe, thereby opening the way to future collaboration.

Takeaways
Ability to deal with the complexity of developing and delivering effective communications strategies for your organizations
Tools to identify internal and external challenges and to design strategies to manage crisis
Best practices to incorporate modern communications tools into your organisation's daily work
Vision to think beyond a narrow football focus, aligning objectives to sustainable goals
Developing network of fellow Communications practitioners working in or connected to football.
Programme details
Who: Senior communications executives
Starting in: May 2021
How long: 4 days
Price: 3'500 EUR
Where: Online
Number of participants: 35 (max)
Certification: Certificate of completion by the UEFA Academy