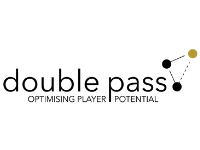 E-Modules
Discover our e-Modules that are consumable online when you want and where you want. Our e-Modules are designed to be viewed and finished in around 60 minutes per e-Module.
Full description
Do you want to develop as an individual in the field of coach education, football management and club & academy management?
Next to our e-Modules we offer the opportunity to connect digitally with one of our Double Pass experts. You can book an expert when you want, in the field and about the topic that you want.
DISCOVER OUR E-MODULES
We provide e-Modules in different categories. Our ambition is to provide the best possible content quality by constantly upgrading and updating existing e-Modules as well as creating new e-Modules. The number of e-Modules we offer will continue to grow over time.

Intro Football Model
Intro Club Model
Football Philosophy I
Football Philosophy II
Football Philosophy III
Team Development I
Team Development II
Team Development III
Club & Academy Management I
Club & Academy Management II
Individual Development
Transition to First Team I
Transition to First Team II
Organisation I
Leadership I
PERSONAL E-MENTORING - BOOK ONE OF OUR EXPERTS
At Double Pass we have experts coming from the field in all aspects of football management as well as club & academy management. All our experts, coming from several countries in Europe, are trained within the Double Pass scientifically based model and have strong track records and vast experiences from implementing many projects globally.
THE JOURNEY
Choose your e-modules and/or e-mentoring
Create your account
Pay
Consume, Develop Yourself & Learn